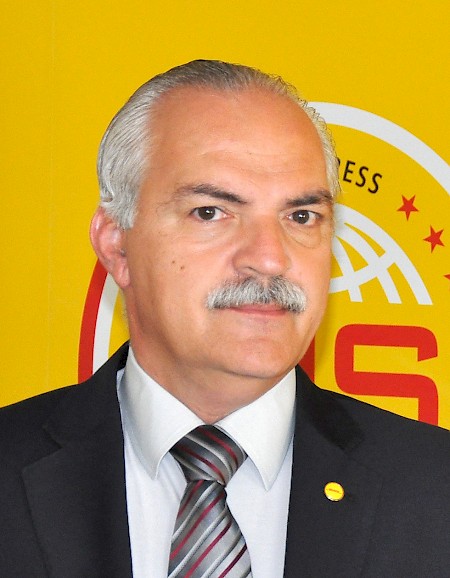 With a strategic location connecting Southern Europe, North Africa and the Middle East along main Mediterranean trading routes, Malta has long been a logistics hub and a base for trading. World leader in sea and air mail DHL has been present in the country for over three decades. Charles Schiavone, the firm's country manager, spoke to The Report Company about DHL's history and operations in Malta.
The Report Company: What has been the evolution of DHL in Malta?
Charles Schiavone: The firm was established in 1983. At the time, we were only five employees and we started basically transporting documents in and out of Malta. We used to travel as accompanied couriers on commercial aircraft to the UK and Libya. Today we employ 55 people, and this is now our third location, which has the benefit of being adjacent to the airport with direct access to the airfield. Nowadays, we have our own Boeing 757-200 special freighter coming and going on a daily basis, Monday to Friday, from our main hub in Leipzig. We have been since day one the market leaders, and we have grown from documents to parcels that had to go through customs.
As DHL, we are part of Deutsche Post DHL, which is a global company. We have just announced the new strategy for 2020 after the successful completion of the previous five-year strategy up to this year. We will now accelerate our organic growth with a clear vision to be the most global company, the quality leader in all that we do, and to be the most customer-centric company in the industry. Strategy 2020 is based around the three-pillars of focus, connect and growth.
TRC: How does Malta fit into DHL's overall vision?
CS: We are in the European region, and the region has different clusters. We are in the Mediterranean cluster, which is composed of Malta, Cyprus and Greece, and this is headed by Greece. We have support from our Greek management because, being a small country, we have our limitations on resources.
As far as market share, while there is no scientific data, we know from the volumes we have that DHL is by far the leader of the market here in both import and export. Our performance is very good, but it is challenging all the time. We have to constantly keep improving as customers become more demanding. We are growing quickly year-on-year, and this is making us stronger and more profitable.
TRC: What was last year's growth?
CS:  We had a double digit growth last year. Results are the only true sign of excellence. Great quality, great people and great cost position produce loyal customers, and that drives a great bottom line.
TRC: What trends do you see in import and export volumes in the coming years?
CS: Over the last four years, we are seeing e-commerce growing day by day. This is our main challenge today, B2C business, and because a very big percentage of the clients are not at home when we attempt to make deliveries as most of them are working, we have to make a second attempt the following day, and this is impacting our costs.
However, we have increased our resources to deal with this. We restructured the routes and we added more routes year-on-year. This means more vehicles, more equipment, and more people. Still, we continue to do more than 96 percent of our deliveries on the same day of arrival. This is a DHL standard for time definite international shipments, which we are achieving day to day. This is a very good performance.
"

We have the widest operational window versus the competition

"
Tweet This
TRC: What measures are you taking to lower costs and increase efficiencies?
CS: On this B2C issue, we are trying a new process whereby we will have an indication of what parcels are arriving today from certain big suppliers and to which customers. We are sending messages first thing in the morning to let them know that they are going to receive a parcel on that day. This allows us either to divert the locations of the courier, or make arrangements with the receiver either to go on another day or shift the timeframe and logistics of the route for delivery whenever possible. Unfortunately, the response is not that high yet – maybe because it is still in its initial phases. We started this recently, and we will continue to work on it. This is something that we are doing manually for the time being but in the months to come we will invest in the technology to make it automated so that we can be more efficient.
Together with this, we are working on other solutions which will be in place soon.
Another focus is the expansion of our existing facilities. The warehouse we have today cannot cater for more volume, so we are in the process with DHL engineers and the local authorities at the airport to expand the existing warehouse to double the size to enable us to have automated conveyors. This will enable us to improve delivery by half an hour on each of our 19 routes since there will be less handling of parcels. From the conveyor, the parcels will be loaded straight into the vans. This means more time on the road to better the performance even further and more convenient delivery times.
TRC: What is the timeframe for this project?
CS: The project is scheduled to begin in January 2016. We are at an advanced stage in the architectural planning and costings, so we are expecting to obtain the approval pretty soon.
TRC: To what extent do you believe Malta can become a logistics hub for the region?
CS: Malta has an ideal position. I see this as very likely to happen in the years to come. The airport and the port are very close to each other, so this is a big opportunity for many companies and entrepreneurs in Malta.
TRC: How does Malta's infrastructure compare to the surrounding region in terms of technology and innovation, and what is the overall cost breakdown in Malta compare with that in other countries where DHL is present?
CS: Malta has a pretty good infrastructure and DHL, for its part, is continuously investing. With us, we see things happening first in the big countries and then it will filter down to us. Malta, being so small, is always at the end of the project implementation but we always benefit.
Thinking ahead, the convergence stage is designed to make our business, our technology and our people work together, as one, in order to make our company more agile and responsive to customers, and changes in the global economy.
"

We will now accelerate our organic growth with a clear vision to remain the most international company in the world, the quality leader in all that we do, and to be the most customer-centric company in the industry

"
Tweet This
TRC: How would you assess the competition in the sector?
CS: The competition plays a big role, especially in our pricing. We were at the top in terms of pricing. In recent years, in order to remain competitive, we had to bring down our prices. Now we are more competitive and gaining customers even from the competition. We have a lot of new, small companies, mostly SMEs, and we also have our old customers, who have been loyal to us for many years.
We have the widest operational window versus the competition. The operational window is the time from the arrival of new material in the warehouse and after how many minutes you can do your first delivery, and what is the last time you can go to a customer who wants an item exported so that it will reach its destination in Europe the following day. This is an advantage for the exporter, who can prepare his documents up to a certain time and we can accommodate, collect them and send them.
TRC: How important is it for DHL to diversify into other areas of business?
CS: There is a demand for warehousing, but for us as DHL Malta, we are not looking at that for now. We have to focus on the time definite international express delivery, because it is our core business.
TRC: What are your goals and what would you like to have achieved by next year?
CS: My aim is to sustain the revenue and profits of the company, as in the last few years. We have to focus on the expansion of our warehouse, and of course we have to be there and try to grow the market share further as well. My intention is to conduct professional market research in the coming months for the industry so that we will have a clear view of the trends.
For now, the trend shows that B2C is still growing. I need to do something to cater for the greater inflow of parcels for local delivery. On the other side, with exports, my main source of revenue, potentially, there is more business out there that we can gain both from the competition and new set-ups from companies coming from abroad. There are a lot of SMEs coming from Italy and Cyprus; we already have some new customers coming to us from this sector.