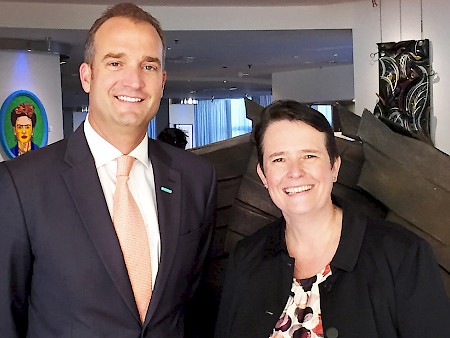 A Starwood luxury hotel situated on the seafront, Le Meridien St. Julians Hotel and Spa has 276 guest rooms and suites with striking views of the Mediterranean Sea, as well as amenities including exotic and traditional eateries, a spa, a sauna and a heated pool. The hotel's general manager and director of operations met with The Report Company to discuss Le Meridien's place within the Maltese tourism industry, and share their outlook on the sector's future.
The Report Company: Malta received 1.7 million tourists in 2014, which was an increase of 6.8 percent year-on-year, and the upward trend is continuing into 2015. To what would you attribute this increase?
Alex Incorvaja: It's down to a few key elements, starting with accessibility. Over the past few years, government has ensured that it continues with its drive for route development. We started working with low-cost airlines to Malta just over eight years ago but it didn't stop at that. We were working with the legacy carriers as well on improving connectivity and last year British Airways started flying back to Malta, and this is key.
The key is to make Malta as accessible as possible, with flights out of the main airports, as well as the regional routes both with the legacy carriers as well as the low-cost airlines such as Ryanair and easyJet.
Another factor has been in the marketing. The government has ensured that for its most important industry which is tourism, even during the tough economic times, it maintained the momentum of promoting the destination towards the established key feeder markets and the emerging markets.
TRC: What challenges has the hotel experienced in adapting to the changing tourism industry landscape?
Ursula Schoefl: In the past year, since I arrived to this role, we haven't had any big challenges in accommodating additional tourists. This hotel is not a classical resort or what the traditional tourists coming to Malta for the beach would perhaps look for, and this is a nice niche, because we are far away from the entertainment district culture, which is certainly a plus for us.
For us, it's just a question of emphasising where we are and who we are, and the Le Meridien brand helps a lot.
AI: It's important that we have all of our channels open. We work with a variety of tour operators, both online and off-line. From a destination perspective, there has been a concerted drive to stretch the seasonality, so it's not all about sun and sea any more. When it comes to history, cuisine, culture and lifestyle, this fits perfectly with the profile of our guests. In our lobby we have the art element, and we have aligned ourselves with St John's Cavalier in Valletta, where we are offering clients the opportunity to discover and go deeper into what Malta is all about, other than just sun and sea.
"

Le Meridien is all about the creative, open-minded, and curious traveller

"
Tweet This
US: The overall destination challenge for Malta is awareness. People just think of summer holidays, but we have three World Heritage sites. Everybody talks about the pyramids in Egypt, but very few people talk about the hypogeum in Malta, and this is where there is huge potential.
TRC: What is your assessment of the work being done by the government to improve on Malta's tourism offering, and what changes do you expect to see as a result?
AI: July and August were typically the peak months, with hotels averaging 95 percent plus occupancy. Last year, June and September were stronger months than the previous July and August, so basically summer is becoming longer. This shows that it is right what government is doing: focusing its efforts on buildings, on infrastructure, on attractions. There is a baroque festival in Valletta that takes place in January that brings alive our cathedral, our theatre, and the open-air opera house. There is a lot being done to attract travellers outside the summer months, and the investments that are being done are important.
TRC: Business tourism currently makes up eight percent of the total arrivals in Malta. How important is this segment to you and how well is Malta prepared for business tourism?
AI: We are a fantastic business hotel because our location is key. We are well equipped for business.
US: When you talk from a hotel perspective, we are finding our niche exactly in that mix for business travellers who want to be in this district where there is a lot happening in terms of the gaming offices, but also Valletta is not very far away.
TRC: The United Kingdom remains the largest tourist market for Malta followed by Italy, Germany, and France. Do you see potential in other markets?
US: Besides those traditional European markets, there are the countries that were once behind the Iron Curtain, which are becoming more interesting. They are discovering Malta, although there are still connectivity problems. What the whole of Malta needs to embrace is all the Chinese travellers, and you see them coming in already. In this, we have the advantage of being part of an international chain, so we know how to attract and approach them.
AI: Another new market which has potential is Turkey. We've got Turkish Airlines flying to Malta now, which opens up another area of opportunity.
"

We are offering clients the opportunity to discover and go deeper into what Malta is all about, other than just sun and sea.

"
Tweet This
TRC: How are you building your competitive advantage and value proposition in Malta?
US: We do it every day and in everything you do. We instil in our new team members the Le Meridien DNA and our unique identity, which encompasses our touches such as the art, and the coffee culture, and unlocking the destination itself. Then obviously in the day-to-day operations of the hotel, we make sure that whatever the brand promise is, that we deliver it. This is in the way we talk to guests, this is in the way we approach guests, this is in the offerings that we provide. The most important aspect is our staff and that they are delivering the promise, and that they are knowledgeable about what Le Meridien is all about.
TRC: The hotel places huge emphasis on art; where did this idea come from?
US: The vision behind this was that Le Meridien is all about the creative, open-minded, and curious traveller. We figured out from the beginning when the hotel was acquired through Starwood that culture played an important role, and we came up with the concept of art exhibitions about a year ago. I ran into our now curator Claude Camilleri, who showed me a couple of pieces of art, and I was very much intrigued, "and this is how we started. Claude understood what I wanted, and what Le Meridien wanted, and this was a match made in heaven. We have recently launched a contemporary art exhibition.
TRC: What is happening this year in the hotel in terms of upgrades?
US: We're going to continue adding soft touches. This hotel is a sleeping beauty; it has so much potential. What it needs is a little bit of TLC, and that is what I am trying to bring in now.
We have brought in a new chef, so there has been a change of product and a change of what and how we serve, and we would like to have a small coffee shop and some more action on our ground floor. We have also tackled the meeting rooms. The walls were all white, and that didn't really fit with the hotel's concept, so with Claude's help we have made an exhibition room for a few artists and we have painted the walls in excellent colours which represent the melody and brand colours.
We are now going to add some touches to the rooms and make them more contemporary, bearing in mind our brand standards, just to freshen up the product.
TRC: What makes Le Meridien, and Malta, so special?
US: I have been here for a year, and I think Malta as a destination is absolutely stunning. I have a real passion for this hotel. I see this as a great opportunity to not only develop local talent and our international team members further, but also to do something with the building and finally inject life into it in the way that it deserves.
This is a very unique spot, and there is so much history around that we really can do great things with it.
AI: I might be biased because I come from St Julian's, but guests who come here are experiencing local life. We are evidently not a resort hotel. We are a boutique, urban-led hotel in the middle of Maltese day-to-day life.