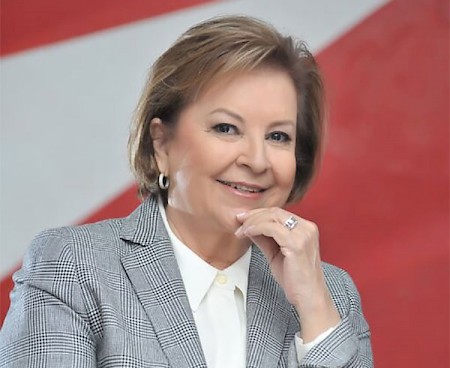 Since Brasilia's IESB University was founded in 1998, it has always espoused the key ideals of innovation and citizenship in its teaching philosophy. Now comprising three campuses and some 18,000 students, the university's well-travelled president Eda Coutinho Machado also embodies a third pillar on which the young institution's reputation has been built: internationalisation. With Brazil's higher education sector growing and consolidating in recent years, Professor Machado keeps IESB's focus and maintains its position among the country's top universities.
The Report Company: How would you appraise education in Brazil and what challenges do you see for the sector?
Eda Coutinho Machado: I think we still have to face the quantity issue, because our numbers in higher education are lower than those of other countries in Latin America, but we also need to focus on quality. I would prefer that those leaving our universities were truly well prepared to contribute to our society.
Not everyone needs to go to the university; we can take Germany, the United States and the UK as good examples. Why should Brazil be any different? I think that we need well-trained young people who can serve well wherever they are. There is a great opportunity in the form of technical and vocational courses through Pronatec. These courses offer training in basic skills: strong oral and written communication, maths, computers and teamwork. One ought to be able to work in teams and be able to manage conflicts; this is essential to strengthening values. If we raise young people with positive values, we have a much greater chance of raising good citizens who will contribute to society.
TRC: These soft skills are vital, but how can you ensure students leave school with such values when they don't always arrive with them?
ECM: We have three basic principles at IESB that need to be understood and followed by everyone: respect for people, respect for the work of others and respect for authority, based on the responsibility each person has. This means that, firstly, everyone at the institution deserves to be respected no matter their position. And this applies to all relationships inside the institution.
We cannot ensure that 100 percent of students leaving IESB will follow those principles but I am confident that the majority will start their careers with a different perspective on life and fully aware of their role in society.
IESB joined the United Nations Academic Impact (UNAI) – a wonderful means to prepare students to become better citizens and make this world better with better values.
As the UNESCO Chair on Emerging Challenges, we also develop a range of social projects on conflict resolution and sustainability. These important issues are part of our daily curriculum and they will help instil good values.
TRC: With new programmes dedicated to the universalisation of access to higher education, many students today are the first in their family ever to go to university. How do you ensure students are working to their full potential?
ECM: Generally speaking, schools in Brazil are reluctant to experiment with innovation, so they accommodate. I believe that the country and authorities need to make a big movement towards basic and secondary education. At IESB we are always devising ways in which we can provide support to students with learning deficiencies. We have recently implemented a new support programme where volunteer students with high grades make themselves available both on line and face-to-face. In the past other initiatives like faculty support to students on Saturdays were good but did not achieve their objectives as the students who needed the most support did not come. Feedback and support need to be immediate and effective.
TRC: The private sector is increasingly looking to technology to help Brazil leap ahead in basic education. What place does innovation have in the classroom?
ECM: Innovation and technology need to be everywhere and permeate all levels of the education system. Students learn in a very different way than they used to. Therefore, teachers need to find new approaches to teaching. It is not always simple – we tend to do things the way we were taught. Classrooms at IESB are equipped with the most up-to-date technology available.
Unfortunately the quality of teaching at basic and secondary levels is far below the needs of the country. Policies should focus on and investments should be made in quality development at those levels. Quality is at the foundation of a secondary education which prepares students to become part of the workforce needed by the country. This is not happening, in my view.
TRC: Why is technology so important to IESB?
ECM: I believe that we need teachers to be more up-to-date, and our students should be the ones to introduce innovations to the workplace, not the other way around, so they have to know what the newest available technology is. I want our students to be up to speed with every innovation. We have been webcasting all of our large events, including graduation ceremonies, and we use Skype all the time.
"

We firmly believe that internationalisation is an extremely important means of educating citizens to better understand cultural diversity and to become global influencers.

"
Tweet This
TRC: What experience have you had with the Science without Borders programme?
ECM: Science without Borders is a great programme. Several students from IESB have participated and enjoyed the experience. However, I believe an institution cannot rely on government programmes only. We have implemented our own internationalisation programme. It started in 2010 through an exchange of students from Penn State University, US and IESB. Since then, this partnership has grown into other areas such as law.
TRC: In what other ways does IESB embrace internationalisation?
ECM: We firmly believe that internationalisation is an extremely important means of educating citizens to better understand cultural diversity and to become global influencers. We have a dedicated professional responsible for the area in which resources – both human and financial – are invested. We are extremely happy with the work we have been doing. Our students are coming back with a whole new set of skills and experiences.
We also invest in bringing outstanding academics and professionals in from partner universities who can contribute to our growth. Last year, we hosted Professor William Fox, distinguished professor at the Penn State University Law School for a two week round of seminars, meetings and classes. IESB is part of the Santander Ibero American chain, where annual scholarships are made available to the best students. Last year five students went to Mexico to CETYS and the Universidad Autonoma de Guadalajara through this programme.
Not only do we focus on our traditional partners such as the United States, the United Kingdom and Germany, but we also invest in developing strong relationship with countries like Georgia, Argentina, Switzerland, Italy and China. We believe that the more our students engage with the rest of the world, the more globalised they become. These opportunities form not only better professionals, but better human beings who become more tolerant, open and flexible.
TRC: IESB's position in the market is very strong, but with a number of large mergers the market is changing. What are you doing to maintain the strength of the brand?
ECM: We continue to invest in quality at all levels and sectors. I do not believe in mass education in the sense that the same methodology fits everyone's needs. At IESB, the individual is at the core of our mission. Although we grow in numbers every year, quantity is not our target; we target quality and we want to give the students the best time of their lives. We would not be able to do this if we did not see our students as individuals with specific needs and unique talents.
TRC: How would you appraise the relationship between IESB and the private sector?
ECM: We have a very good relationship with the companies not only in the Brasilia region but outside. We have partners that help our students enter the market by helping them improve their skills.
In our creative economy programmes as well as in the others, theory and practice is at the core of the learning process. Practice is done also with partners in the market. Entrepreneurship is incentivised and developed in all of our courses. We have close relationship with Sebrae (Brazilian Micro and Small Business Support Service), and we have been working together in the last year on a joint programme on entrepreneurship. In May we will have a big Start Up Fair at one of our campuses.
Like innovation and creativity, entrepreneurship is in our DNA. We want to be daring and different. We love challenges, and if we make mistakes we learn from them but we never accommodate or give up.
"

We continue to invest in quality at all levels and sectors. I do not believe in mass education in the sense that the same methodology fits everyone's needs.

"
Tweet This