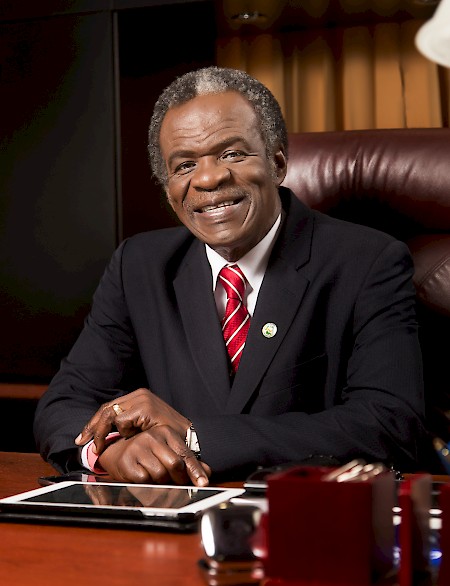 Photo: Chief Secretary of the Tobago House of Assembly
Orville London was elected chief secretary of the Tobago House of Assembly in 2001, a position he has held since then. He spoke to The Report Company about the collaboration between the governments of the mainland and the island in driving Tobago's development, and outlined the main pillars of Tobago's brand as a tourism destination.
The Report Company: You have been running Tobago for many years, but the government across the water keeps changing. Has this affected the relationship between Trinidad and Tobago?
Orville London: From the perspective of the Tobago House of Assembly and the central government, the expectations don't change. We expect to have a mutually respectful relationship, and a relationship in which the central government is sensitive to the needs and the specificities of Tobago. We are also sensitive to the challenges facing the central government, and therefore in that kind of environment we can have a meaningful and mutually beneficial partnership. That has not changed. Obviously, because of the fact that we now have an administration in Trinidad which is the same political party as the administration Tobago, one would expect that the environment would be more collaborative, so we do expect that there is going to be more dialogue and a greater understanding of the issues on both sides.
In the latest budget, I think we started seeing signs that a number of the issues are being dealt with more seriously and with a more focused approach towards Tobago's development than in previous budgets. We expect that that will be followed by some action on the construction of the new airport terminal, which is something that is quite critical if we are going to remain competitive in tourism with respect to our neighbours in the region.
"

Tobago represents nature, serenity and tranquillity

"
Tweet This
TRC: What needs to be done to achieve economic diversification in Tobago?
OL: We recognise that diversification will not take place overnight, so we need to ensure that we maintain and enhance the established sectors while we nurture new sectors. We want to continue to focus on the tourism sector. We want to continue to increase our presence in the established markets and also ensure that we are able to make inroads into those markets that are not as established.
The United Kingdom market has been our most lucrative market. We have the closest relationship historically, and of course over the years this has been intensified, especially in tourism. In terms of diversification, the Cove Eco-Industrial and Business Park offers affordable energy, an excellent geographical location, a population which is well educated and amenable to training, and a central government which over the past five to 10 years is working towards making the country more accessible and attractive to investors.
TRC: What does Tobago add to the overall national brand of Trinidad and Tobago?
OL: Tobago represents nature, serenity and tranquillity. It hosts a range of experiences that you wouldn't normally find in an island of this size, ranging from the traditional sun, sea and sand experience with windsurfing and snorkelling and diving, right through to eco-tourism. You move from a Barbados experience to a Costa Rica experience in a matter of hours.
It is extremely balanced; there is the energy of the Trinidad experience, and the tranquil ambience of the Tobago experience. This makes the twin island state of Trinidad and Tobago unique.
"

We have identified designated development areas, which are seven or eight areas in Tobago, primarily with respect to tourism-related investment, where there is land available

"
Tweet This
TRC: How do you balance the need to maintain the tranquillity of Tobago with the need for investment?
OL: We are trying not to make the same mistake or create the same type of challenge as other destinations which have actually changed the environment which attracted their visitors in the first place. We do not want to build massive hotels and structures that take away from the ambience. We need to protect the tourists. We tell our prospective investors that this is an island where you can be assured that what you are investing in today is what you can market and sell 10 or 15 years down the road, because we have a joint commitment to keep the island as serene and attractive as it is now over an extended period of time.
The type of tourism you get all depends on how you market your destination. We have pitched our marketing in a manner that ensures that we attract the type and numbers of visitors that don't overwhelm our current capacity. One of the reasons why the United Kingdom remains our most valuable market is that British visitors really see Tobago is the type of tourism destination that they would like to spend their vacation at. Different countries will have different expectations.
TRC: What opportunities exist for investment in Tobago?
OL: We have identified designated development areas, which are seven or eight areas in Tobago, primarily with respect to tourism-related investment, where there is land available and where there is a commitment to have concessions to enable an investor to get a healthy return on their investment. We understand the need for high-end hotel rooms and that is an area that we are looking to attract investment. We are also looking at health tourism. We have an excellent hospital which is one of the best in the Caribbean, and we can partner with entities that want to explore health tourism whether it is from a convalescence perspective or a treatment perspective. Those are some conversations which have started.
There is also the question of affordable energy. We have affordable natural gas available, we have a power plant, we have land, and therefore there are some industries which might find that coal is an area that they want to get into. And because we look out into the Atlantic Ocean from a geographical perspective, we have closeness and accessibility to various markets, which can be taken advantage of.
"

We need to look at how we ensure that we maintain the pace of development without undermining those fundamentals that characterise Tobago

"
Tweet This
TRC: What are your priorities in environmental protection?
OL: The rainforest is obviously essential, and we are examining a project to enhance our management and protection of the rainforest. The marine environment is more seriously under threat on so many levels, from coastal erosion to the quality of our water and even invasive species. I will not in any way underestimate the challenge that we have with respect to what is the oldest protected rainforest in the western hemisphere, but to me I think the more urgent challenge is really with our marine environment, and that is where we are placing greater emphasis. Some of it is about education, some of it is about research, and some of it is about finding the necessary investment, because coastal erosion management is a highly expensive process.
Fortunately, we are not in this alone, and from a regional and an international perspective we are liaising with international organisations and will be intensifying our efforts to obtain assistance and participate collaboratively with other related entities.
TRC: What is most important to you in terms of building Tobago's profile?
OL: We talk about infrastructure and the environment, but we cannot forget the people. Therefore, one of the areas that we will continue to work on with the central government is to improve and increase the capacity of people to be able to cope with and take advantage of opportunities. Human resource development is an area in which we want to continue to place significant focus.
Another issue that we want to explore is self-governance for Tobago, and we are expecting to be able to bring some closure to that. We also need to look at how we ensure that we maintain the pace of development without undermining those fundamentals that characterise Tobago as the island that it is. I think that kind of balance is necessary, and it's nothing unique to Tobago. That kind of balance is something that we need to tackle, and I have to be particularly pragmatic in trying to find ways around it. I operate on the premise that if it has not been done, it can be done, but if you've done it, nature can't be restored. That is the issue. You cannot be ultraconservative and miss out on opportunities for advancement, because people have to be employed and the island has to grow.