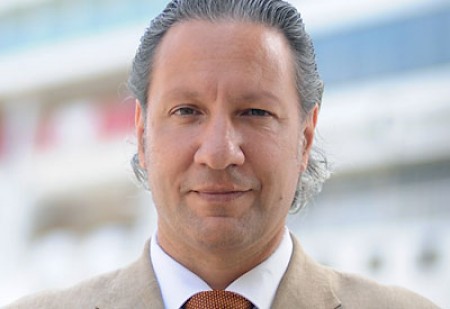 The historic Port of Valletta provides an excellent location, right in the middle of the Mediterranean, as a port of call or a starting or ending point for a cruise, while Valletta and the Maltese Islands offer a multitude of attractions. John Portelli, CEO of Valletta Cruise Port, talked to The Report Company about the Maltese cruise sector as well as what the area surrounding the port has to offer.
The Report Company: How would you appraise the tourism and cruising sector in Malta?

John Portelli: 2013 was a difficult year and it came right after a record year in 2012 where we handled over 600,000 passengers. In 2013 we suffered a fall in number of passengers because one of our major cruise line operators decided to drop the weekly calls. This is more a reflection of what is happening in the region at the moment, where you have a lot of realignment of itineraries. We also saw a drop in what the industry refers to as lower berth capacity, in the number of cruise ships cruising in the region.

In fact for 2014, the information we have is that we are expecting a drop of around 9 percent in lower berth capacity. However, in our case, in 2014 we are expecting an increase of around 5 percent in total passenger numbers, and our passenger numbers are expected to again exceed the half million mark. It will still be less than 2012, which was a record year, but it's very much in line with the other years which were good years in 2011 and 2008. So we are starting to recover.

TRC: Since the Valletta Cruise Port is responsible for the port and the surrounding areas, what are you doing to attract further investment and foster growth within the sector?

JP: Even though we had a drop in our passenger numbers in 2013, in terms of financial results they were very similar to 2012 and that is really because of the additional added value services that we are creating here which support the core revenue generating activity of our company which is the cruise business. What are we doing, first of all in terms of business development, is we keep an open direct line with the cruise lines.

We are always coming forward with recommendations on how to enhance Malta's strategic position on itineraries both as a transit port of call and also as a home port. We do believe that the home porting, where a cruise ship starts and ends a cruise has a lot of potential for a country like Malta, particularly for the Chinese market whereby Chinese passengers can fly into the Mediterranean and start a cruise from Malta and end their cruise from Malta. Then, if they want to, they can stay for a few days in Malta. We have a TUI home port in Malta and some other boutique clients who also start and end or just start or just end from Malta. We are very much focussed on that type of work and at the same time trying to generate more volumes from the eight hour port of call particularly for the Chinese market and also the Eastern European market.

Another aspect is what I would call the local aspect which is maintaining a good working relationship with the ministry for tourism, the Malta Tourism Authority, with the agents, with Transport Malta and all the other service providers to make sure that we provide a good quality service. We have been rated very highly in terms of service delivery and we are constantly looking at how to improve on that. Obviously the most important thing is to make the experience of the passenger, not just as a destination but as a port, an enjoyable one. That's on the cruise side.
"

The marina itself has now been nominated for an international award for design. The waterfront also won an award for design in 2013 by the urban planning design institute. It was a global award for excellence in design.

"
Tweet This
On the land side, which I would say equates to around 20 percent of our revenue generation, we have a deal with government for 48,000 square metres of property, a lot of which is historical buildings. Our office, for example, was built in 1752, so our role was first to restore the site which was dilapidated and then rent it out for restaurants and offices and create a destination. Last year we inaugurated a boutique marina, the first in Malta to offer an 'all-inclusive' option to its clients, and most of the 40 berths have now been taken up. The marina itself has now been nominated for an international award for design. The waterfront also won an award for design in 2013 by the urban planning design institute. It was a global award for excellence in design. We are also working on more office space which will be for both local and foreign companies to rent. In addition, we have a further 10,000 square metres of available office spaces which are yet to be developed. TRC: What opportunities are there to attract Chinese tourists?

JP: We believe that there is scope and given Malta's historical economic and political ties with China we believe that Malta can be a launchpad for Chinese cruising in the Mediterranean. This is something that we certainly wish to pursue.

TRC: What is being done to boost the attractiveness for cruise liners in Malta and to reverse the decline in passengers?

JP: After the Costa Concordia incident, prices in the industry were depressed, which meant each cruise cost more to the cruise liner. It also meant that they were attracting passengers with lower disposable income so the revenue being generated in the cruise was lower. There is also the issue of the price of fuel going up; it peaked at a time when cruise prices were going down. As a result, other regions therefore became more attractive to the cruise lines than the Mediterranean which is why we have seen over the past three years a decline in capacity and a decline in passenger nights in the Mediterranean as a region.

In Malta, the fall from 600,000 passengers to 480,000 passengers was primarily related to one client, as MSC stopped calling on a weekly basis. But now they are back again this year with 37 calls. Our focus will now be on how to maintain these clients for the years to come. We are confident that this will happen. We are also aware that there is a certain readjustment that needs to be done in the market which will continue to have an impact on our company.

TRC: What makes Malta different from other destinations in the Mediterranean?

JP: In Malta you have so much history concentrated in one area. Not just in Valletta but in the whole island you basically have the history of humankind from the prehistoric until the modern age. That in itself is unique. I think what is also unique is the short travelling distances between sites. The safety aspect is another key selling point. Passengers come here and they feel safe. They feel secure.

What is a unique selling point from an itinerary planning perspective, for the cruise line, is that Malta's unique position in the centre of the Mediterranean makes it relatively easier for a cruise line to start a western Mediterranean cruise and an eastern Mediterranean cruise on the return leg.
"

We believe that there is scope and given Malta's historical economic and political ties with China we believe that Malta can be a launchpad for Chinese cruising in the Mediterranean. This is something that we certainly wish to pursue.

"
Tweet This
TRC: Are you looking to make improvements to the port infrastructure?

JP: We believe that in the long term there could be improvements done in the port in order to be in a position to be able to handle these cruise ships that are ever growing in size, but we have to do that within the ambit of a historical port. We have in the past discussed our ideas with government on what can be done in order to further improve the cruise facilities in Malta.
The service we give is already recognised. For two years running we were nominated as the best turnaround port by the cruise lines. This is because we try to see how to improve the passenger handling services here in our terminal. In terms of infrastructure we have discussed with the government on what else can be done to improve. We are considering further increasing the lengths of the quays and perhaps looking into how to improve the manoeuvrability when going through the breakwater in the Port of Valletta.

Something that perhaps we have to look into in the future, depending on what is decided on an EU level, is the issue of shore side electricity and we are aware that the government is currently looking into those issues.

We are also looking at what can be done by the government to promote the cruise industry. Most of the marketing being done is being done by Valletta Cruise Port but in the last year there has been more support and we believe that there could be still more. We carry out our own surveys to show what is being contributed directly to government from the cruise industry. TRC: What is the contribution of the cruise industry to the economy?

JP: There is a lot, and as a company we continue to invest. This year alone, our shareholders decided to raise the share capital so that we could continue investing. We know this is a long term investment, we have a 65-year deal with government and we will continue to invest in this operation.

TRC: Are there any considerations for Gozo?

JP: When we promote Malta we promote Gozo. In fact we believe we were catalysts in increasing the number of calls to Gozo.

TRC: How do you think Malta should be perceived as a destination?

JP: Malta is a historical and cultural place, but even if you're not into that you can come and enjoy yourself. We like to call ourselves the door to the Mediterranean. You come to Malta and you get a sample of the Mediterranean.

TRC: As CEO of Valletta Cruise Port, what is the main objective that you aim to accomplish in your role?

JP: My main objective is to see passenger numbers grow. I want to place Valletta, Malta and Gozo more firmly in the cruise itinerary, and to see Malta as a reference point of service quality to the cruise lines for the region. Those are my main objectives. We also want to make sure that the shareholders get a return on their investment.