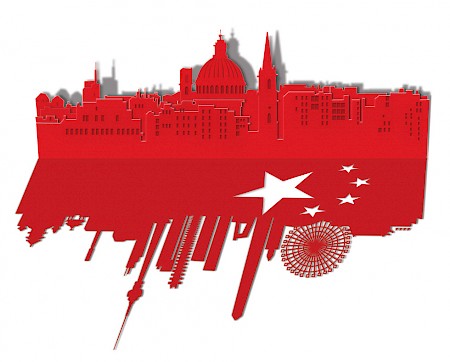 Despite their geographical distance and obvious differences, over the last 40 years Malta and China have managed to build a close relationship that includes investment, tourism, education and culture.
On the face of it, China and Malta would appear to have little in common. One of the world's largest countries, China's political system and Oriental culture contrast with the small islands of Malta, where a rich European heritage is the context for a UK-style parliament.
And yet, the two countries can look back on four decades of strong relations as they seek to build substantial bilateral ties in areas such as the economy, education and culture. Malta was one of the first European nations to establish diplomatic relations with China, in 1972. Coincidentally, that was under a Maltese Labour government and the same party is in power now. "China and Malta have already set a good example for the international community on how two countries of vastly different sizes, cultures and social systems may develop friendly relations," says China's ambassador to Malta, Cai Jinbiao. "China and Malta have a lot in common. They are both rich in history and culture, and deeply value their own cultural heritages."
"

Malta's potential as a regional hub for Chinese firms to service North Africa and Southern Europe is very attractive.

"
Sai Mizzi Liang Envoy for Malta Enterprise in China
Tweet This
Malta has fostered close ties to the East throughout its history, being a key part of the Mediterranean trade route for the Phoenicians and other civilisations. Two millennia later, the mutual attractions of Malta and China are undeniable. China's energy investment and tourists all make closer relations with it a priority for the island nation; meanwhile, Malta's strategic location in the heart of the Mediterranean makes it appealing for the Chinese. "Malta is a small market but it is the gateway to the EU and many North African countries," explains the Chinese ambassador.
While investment is clearly driving the relationship between the two countries, culture is also very central. This is reflected in the recent agreement on the establishment of a Maltese consulate in Shanghai and it is also apparent in the increasing numbers of Chinese tourists who are discovering the island. Malta's hosting of a Confucius Institute, a Chinese Cultural Centre and even a Chinese Garden of Serenity all reinforce the notion that bilateral ties between these two countries are reaching beyond just trade and industry.
Forging links through education
In May 2013, Malta and China signed an accord ensuring the mutual recognition of university degrees between the two countries. This is seen as important for Chinese students, because it now means that qualifications they gain in Malta can make them eligible for a government post back home. Chinese students are particularly drawn to Malta because of its specialised courses in areas such as diplomacy and maritime law.
Meanwhile, the Confucius Institute at Malta University, which was set up in 2009, is teaching locals Chinese. Malta hopes to inspire the younger generations to learn about China's language and culture, with the institute also due to start offering classes in schools.
"

We would like to work more with Chinese universities.

"
Evarist Bartolo Minister for education and employment
Tweet This