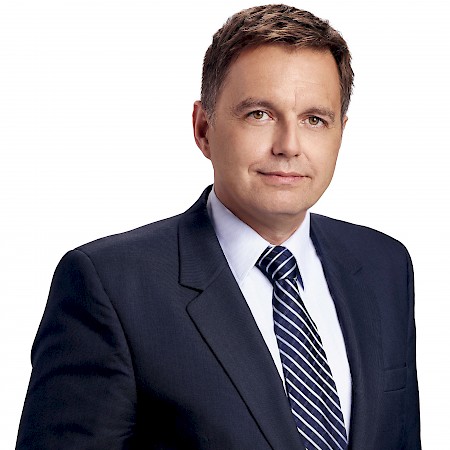 Photo: Ministry of Finance
Slovak Finance Minister Peter Kazimir has witnessed the transformation of the country's economy first hand. He served as deputy finance minister in Prime Minister Robert Fico's first administration in 2006-2010 and was appointed finance minister in 2012, helping Slovakia embrace the euro and the path to healthy growth
The Report Company: What have been the major milestones for Slovakia's economy since it adopted the euro, and what have been the challenges?
Peter Kazimir: The introduction of the euro in January 2009 was a key milestone, because as a small country, as a former part of Czechoslovakia, joining the eurozone finalised our integration process. Pro-European sentiment in Slovakia is one of the highest in Europe. Public support for the euro actually increased after its adoption, from 60% to 80%, which is in contrast to many countries. This was at the height of the crisis in 2009.
Another milestone came when the constitutional law on budget responsibility, which I co-authored, was adopted in parliament in January 2012, just before the elections. This was very important as it proved that fiscal discipline is on our minds and something we take seriously.
Thirdly, I would like to mention our fight against tax fraud. Unfortunately, in 2009 our country was second on the list of least effective EU countries in terms of VAT collection, after Greece. However, this has now changed and we have gained a cumulative 3% of GDP in the budget as a result of political measures.
"

We are focusing on innovation and startups

"
Peter Kazimir Minister of Finance
Tweet This
TRC: Slovakia's debt-to-GDP ratio has fallen to 52.01%, but the budget deficit widened to 2.97% in 2015. What is your appraisal of the health of the Slovak economy today and what are your priorities?
PK: The deficit increase came about because we boosted investment on projects such as the ring road around Bratislava, which is one of the biggest public-private partnership projects in Europe now at around €1.7 billion, with European Bank for Reconstruction and Development involvement. The economy is on an even footing, and the structure of growth is good because domestic consumption is picking up, and household consumption, private investment and public investment are all healthy.
My country had a structural problem in the labour market with a relatively high unemployment rate. It is currently below 10%, so if we compare with other countries it is quite normal. In 2001/2002, we completely privatised the banking sector, which cost us over 10% of GDP. We did this without external help, and our banking industry is now sound and healthy, with no foreign exchange risks because we finance solely in euros.
TRC: How would you appraise the trajectory of British investment into Slovakia given the announcement of the £1 billion Jaguar Land Rover plant in the country?
PK: Historically, this part of Europe has not been a natural area of geopolitical interest for the UK. But although it is quite difficult to find a British bank here, there are several excellent examples of British investment and the British Chamber of Commerce is also very active in Slovakia. But there have indeed only been a few investors from the UK in the past.
Convincing Jaguar Land Rover to locate here was an excellent reward for our efforts. And what was behind it was not incentives, because I think in this area we are competing with the surrounding countries, which all have similar offers. What was behind this decision was that Slovakia offers political stability, a good business environment and the crucial thing, in my view, was the supply chain, because the automotive industry is a huge part of the economy. We have the chain of suppliers to the automotive industry, because in Slovakia we produce everything that is interconnected to the production of cars, from metal to tyres, plastic and leather. This is the anchor for our economy and I'm sure that for Jaguar Land Rover and the British suppliers to Jaguar Land Rover, Slovakia is now firmly on the map.
"

I believe that, in the situation in which Europe currently finds itself, it is very helpful to encourage honest, open dialogue

"
Tweet This
TRC: What are the main intersections of interest between Slovakia and the UK?
PK: We are focusing on innovation and startups in this country. We aim to attract the smartest young people from Ukraine, from the Baltic countries, from Poland, from Hungary, and try to convince them that this is the right place to set up. We can offer an opportunity to investors from the UK to cooperate. We are working with Israel, for example, and we are working on creating special funds to support startups from Israel. This is a new part of our economy that we would like to focus on in the future with our partners.
TRC: What would you like to achieve during your time in office?
PK: I would like to achieve a balanced budget for the first time in the history of the country, because we have always had a deficit. I would like to work on lowering the debt, despite the fact that the level of our debt compared to other countries is quite low. I also hope that Slovakia can be a country with a voice. We can speak loudly and we can be direct and open, because that is how we are used to being. I believe that, in the situation in which Europe currently finds itself, it is very helpful to encourage honest, open dialogue.