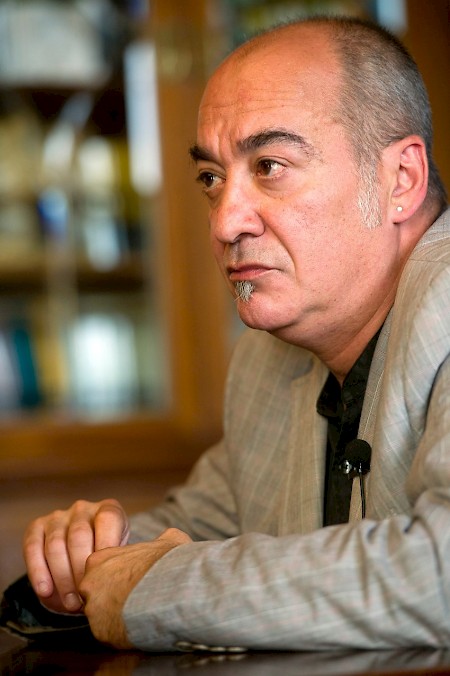 Photo: provincial council of Gipuzkoa
In an exclusive interview with The Report Company, president of Gipuzkoa's provincial council Martin Garitano talks about how his administration is trying to govern in a different way. He outlines the province's strengths and weaknesses with regard to business, and talks about the challenges it faces in the future.
The Report Company: What are your main goals?

Martin Garitano: We've been in power in regional government for three years and our main goal was, and is, to establish a different way of governing. For the last thirty years the Basque Nationalist Party has been in power, and this time has seen right wing policies introduced, and a distancing from society. We wanted to work with people, on a permanent basis. This is our main goal: Work with people, come up with policies together and look after their needs.

Our second goal was to ensure that when we had to govern during the crisis, that Basque society didn't destabilise, and that the most disadvantaged people in Gipuzkoan society kept a minimum standard of living. That's why we've spent exactly half of our budget on social welfare. Gipuzkoa was not hit worst by the crisis, but despite this we still have 70,000 unemployed and we think that this poverty needs to be relieved in some way by the public administration.

TRC: Can you give us some concrete examples of what you've achieved in recent years?

MG: We opened the doors of the council building here. Lots of people come here to talk about their plans and their worries. We make regular visits to councils, and representatives come from all branches of government, with me leading them, and we talk to all social and economic groups. We hold meetings with businesses, council workers, elderly care home residents, cultural collectives, and residents' associations, and we close the day with a public forum where anybody can ask questions, make suggestions, or give criticism.

I think it's vital that politics doesn't seem alien to people. It's not a case of, "I've been elected and I'm not going to get involved with anyone for four years". I am open to criticism, learning new things, and receiving suggestions from people.

TRC: What are Gipuzkoa's competitive advantages?

MG: Gipuzkoa is mainly industrial. We have strong sectors like machine tool manufacture and transport. As well as this, we have a strong export sector. Most manufacturing in Gipuzkoa is for export purposes. I would like to commend business owners' decision to innovate. We have a list of products that can be sold worldwide. Not just in terms of manufacture and export, but also installing the products in third countries and aiding the staff there. I think that businesses here have understood that good business practice means both sides win.

We also have a tourism industry here. San Sebastian and the coast attract a lot of people.
"

Our main goal was, and is, to establish a different way of governing.

"
Tweet This
TRC: What has the government done to help and promote businesses?

MG: We maintain diplomatic relations with many countries and, among other things, we have set up many missions abroad. What we need to do is support businesses in their search for new markets and new possibilities. We need to be there for businesses when they are making deals.

TRC: How does Gipuzkoa fit into the overarching Basque brand?

MG: We are a Basque brand. But Gipuzkoa has important differences from Biscay in terms of its sociological and industrial make-up. It has even more differences from Alava, which is not industrial.

Biscay has the steel industry and Gipuzkoa is SMEs, given that 80 percent of businesses here have less than ten workers. We are all different, but we are all Basque. Biscay is more outgoing, whereas Gipuzkoa is more reserved. We know how to manufacture things, but we don't sell these things well. One of the challenges facing society here is to keep making things well, but also learn how to sell them better.

The social make-up of business owners is different. In Biscay we're talking about families with a lot of capital, and a century and a half of tradition. They're big factory owners. In Gipuzkoa, we're talking about small business owners that are self-made and come from a rural background. They have forged a career in industry using their intuition.

TRC: How has the brand evolved?
MG: If the twentieth century was about self-made men, who developed technology through their own curiosity, learning and copying as they went; in the twenty-first century it's about excellent training. Training in Gipuzkoa is excellent, whether at university level, or professional or technological training. We have eight training centres, which for an area like ours is a real luxury. We have a highly skilled workforce and business owners that are committed to our area. This is borne out by the fact they've remained here during difficult times. We haven't seen a collapse in industry due to the flight of capital or people. I think we need to recognise that small and medium business owners here showed real patriotism during the crisis.
"

Training in Gipuzkoa is excellent, whether at university level, or professional or technological training. We have eight training centres, which for an area like ours is a real luxury. We have a highly skilled workforce and business owners that are committed to our area.

"
Tweet This
TRC: Where does the thirst for innovation in Gipuzkoa come from?

MG: Basques are a bit like that. The Gipuzkoan sailor Elcano was the first person to imagine sailing around the world. Thanks to the widespread conviction that you can't rest on your laurels, we recognise that we always need to innovate, being such a small population. If we weren't at the forefront of innovation, research, and development, we would be swallowed up and erased from the map of industry. Compared to the big powers, we are a pinpoint on the map, so we need added value, which in our case is innovation. I think that business owners, workers, and the administration have understood how important this fact is.

TRC: What does Gipuzkoa offer the international tourist?

MG: Gipuzkoa has a lot to offer. We have great cuisine, with a constellation of Michelin stars for such a small area. We have beautiful countryside. La Concha bay in San Sebastian is one of the most beautiful places on earth.

But I think that we have to add the value we were talking about before. In this case it's the people here. I think that people are welcoming in all of Gipuzkoa's tourist areas. People know the value of tourism and so they welcome people. Ours is a region, like any other, with its conflicts and problems, but I think that tourists in San Sebastian feel at home. Bruce Springsteen came to perform in San Sebastian once, and he comes back every year on holiday with his family. Basques are simple people. Anyone that comes here won't feel harassed or that they're being photographed. It's easy to live here.

TRC: Why is Basque cuisine such a reference point worldwide?

MG: There's a socio-political explanation for that. In 1977, when the first election happened, during that outpouring of social, political, and cultural joy after 40 years of dictatorship, a group of leading chefs started to breathe new life into the cuisine and wanted to set up here. New Basque schools were opening, trade unions and political parties were being founded, Basque music had resisted oppression and was coming back to life, and a group of innovative painters came on to the scene who had been dormant under Franco.

In this period, chefs decided to lead the way, and they certainly weren't going to copy French cuisine, they were going to do something completely new. They anchored themselves in traditional Basque cuisine, which is delicious. They managed to adapt and move to using traditional Basque ingredients, and using the traditions here to innovate constantly. Indeed, in San Sebastian we have the only university faculty of gastronomy on the planet; The Basque Culinary Center, where students from all over the world come to study.

TRC: What are current perceptions of the Basque Country abroad?

MG: I think identifying the Basque Country with armed struggle has changed. Business owners come to visit us and are not worried at all. Things still have to change a lot though. ETA has laid down its arms, but the problem is still there. We still need to make a lot of progress.
"

If we weren't at the forefront of innovation, research, and development, we would be swallowed up and erased from the map of industry.

"
Tweet This
TRC: What is your relationship like with the UK?

MG: There are two branches: Biscay has always been more involved with the UK because of geography. There was also a relationship because of steel due to the UK's coal deposits. Indeed, the fan chant of Bilbao's football team is "Aliron", which means "All iron", which was shouted by British miners. Gipuzkoa has always been closer to France due to our proximity to it. With regard to exports though, we are worldwide.

TRC: How is Gipuzkoa's tourism industry doing?

MG: In the last two years, tourist numbers have increased quite a bit, despite criticism we've received. Numbers are up due to the coverage we've received in the international press because of the good weather. Last year saw hotel occupation records being broken in San Sebastian, and this year, at first glance, we are on track to beat that record again.

TRC: What is the biggest challenge for the future?

MG: Reducing unemployment in Gipuzkoa. I think the great tragedy of the western world nowadays is unemployment. It leads to poverty, destabilisation, and increases inequality in society.

I would also like a more collaborative society, the more collaborative the better. There were years, the first years in the transition to democracy after Franco's death, where the feeling of joy in society led to people participating much more. Then however, society got comfortable and stopped participating, delegating responsibility to politicians. And that's not good. Society needs to be what inspires politicians.

TRC: What image of Gipuzkoa would you like people to have?

MG: With regard to work, Gipuzkoa is a land of opportunity. Investing here is investing in a secure future; buying a product from Gipuzkoa is buying quality. For those coming for tourism, we can offer sensations and experiences you'll never forget. Watching the sunset in La Concha Bay, climbing Aranzazu, walking along the cliffs or through the hills and sharing an afternoon in a Franciscan monastery, visiting the house where Saint Ignatius of Loyola was born. All of these are unforgettable experiences.

Ours is a land of economic opportunity, and unforgettable tourist experiences. Coming to Gipuzkoa and the Basque Country offers the visitor the opportunity to hear Europe's oldest language, and get to know a small people who, nevertheless throughout history, have learned to work together and survive. And a people that can survive the challenges we have, is a people with a future.